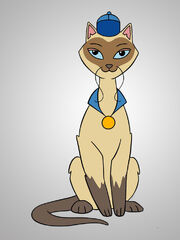 Baba Miao (爸爸, Bàba) is the father of three children: Sagwa, Dongwa, and Sheegwa. He is also the husband of Mama Miao and the son of Yeh-Yeh (爷爷, Yéye) and Nai-Nai (奶奶, Nǎinai). Baba is one of the official calligraphers of the Foolish Magistrate.
Personality
Baba is stern with his children, but can be playful at times.
Appearance
Baba is cream-colored with typical Siamese markings on his head and face.
Trivia
Coming soon!
Gallery
Community content is available under
CC-BY-SA
unless otherwise noted.