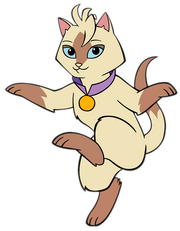 Dongwa Miao is a Siamese kitten, the only male child of Baba and Mama Miao and the older brother of Sagwa and Sheegwa.
He lives in the palace of the Foolish Magistrate, along with his parents, grandparents, and sisters.
Dongwa is best friends with the Alley Cats (mainly Hun-Hun) and the palace mice.
Personality
Dongwa is the only known member of the Miao family who doesn't carry the trait of being a scribe, but rather studies Kung Fu and T'ai Chi or other martial arts.
Dongwa is independent and stubborn, but is still very protective of his sisters. He is often very competitive and can sometimes be boastful, but also has a kind and intelligent side. He sometimes picks on Sagwa, but he loves her. Dongwa can also be very brave and loves his family, despite him being reckless and a bit arrogant.
Dongwa spends most of his time outside of the palace, trying to impress the Alley Cats.
Appearance
Dongwa is cream-colored and has the typical face, tail, and paw markings of a Siamese cat.
Trivia
His Chinese name (冬瓜 Dōngguā) means "winter melon" (or just melon) and his Zodiac Symbol is the Monkey.
Gallery
Community content is available under
CC-BY-SA
unless otherwise noted.